The benefits of an oven are immense in addition to cooking and baking conveniences.
Save time by cooking on multiple levels simultaneously. As compared to cooking on hob, you do not have to stand over the stove to monitor the cooking. Spend less time cooking and more time with your family; let your oven whip up a meal with convenience.
Save money when you can cook any dish at home instead of dining at the restaurants. Choose from any cuisine be it Western or Asian foods. Cooking bigger batches in the oven also saves on utility bills.
Save table and floor space by owning a single built-in oven that is so versatile, instead of purchasing multiple appliances. From defrosting to broiling, grilling, roasting, baking and sauteing, the oven is multi-functional and all-in-one. Explore endless recipes from starters to snacks, mains and desserts.
Enjoy healthier foods by cooking in the oven as it breaks down the fat within the food instead of adding oil when frying on the stove. Also makes meal prep easy for the health conscious.
1. Type of Ovens
There are three two types of ovens: multi-functional ovens and conventional ovens
Are you a D.I.Y. chef who prefers cooking based on your own recipes? Do you prefer taking full control of the cooking temperatures and duration? Using your oven for roasts and bakes only? Choose conventional ovens that are equipped with the essential functionality, perfect for everyday use.
Are you an adventurous home chef? Looking to explore all kinds of different menus? If quick, fuss-free cooking is what you look for in an oven, choose ELBA multifunctional ovens that are equipped with preset cooking programs. Save time by defrosting food, as well as cooking your favourite meals to perfection wit ha suite of preset programs.
2. Oven Functions
Does the number of features in an oven play a part in your consideration? ELBA conventional ovens come with 5 functions perfect for everyday use, while the multifunctional ovens give you an extensive selection of innovative features to take your culinary endeavors to the next level. With up to 9 Functions for greater cooking versatility, your imagination will be the only limitation now to bring all of your culinary dreams to reality.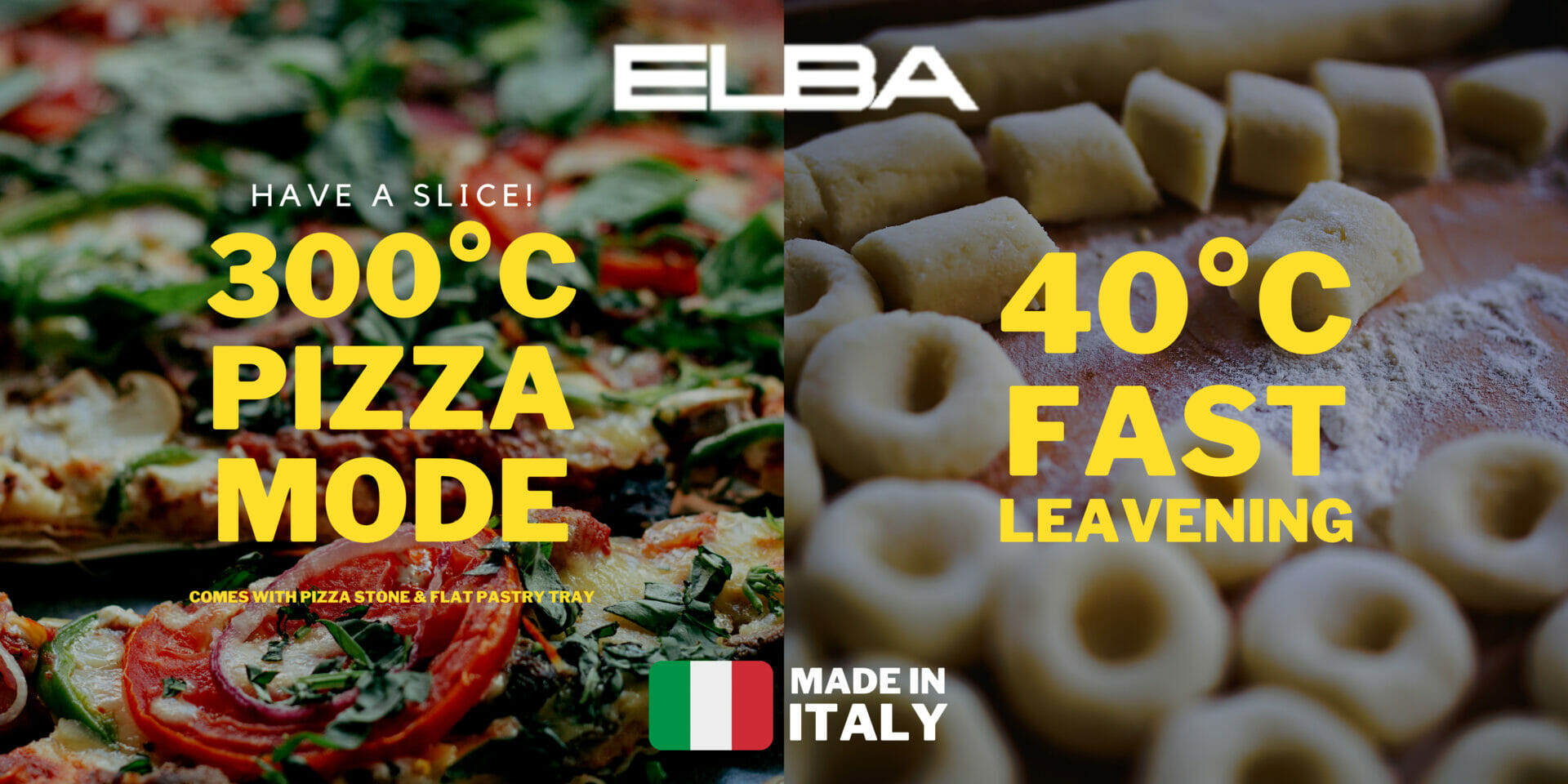 Special 40°C for fast leavening is useful for creating fermented dishes, from yoghurt to kimchi, saukret, sour dough… the list goes on.
Pizza function with pizza stone allows you to make pizza with ease and assurance. Trying out a new recipe, but unsure of the cook time? With this feature you can simply select the programme, and let the oven take care of the rest.
Bakers will love the hot air cooking function that allows you to bake on multiple levels at the same time. Bake cookies often? Place multiple trays of cookies in the oven and enjoy the same evenly-baked results!
3. Oven Size
90cm Oven — Ideal for big households
Cooking for a large household? Choose a 90cm model for more space to accommodate the cooking needs of a big family. If you host dinner parties at home frequently, this oven with bigger size would be suitable to cater for larger portions of food to be served.
60cm Oven — Suitable for any kitchen
For a typical household, 60cm ovens provide ample space to work with, even for whole chicken on the rotisserie. the size is also perfect fit for any kitchen layouts and kitchen counters.
4. Easy to Clean
Cleaning is a breeze. Enjoy fuss-free maintenance.
Catalytic Self-Cleaning Oven
Spend less time cleaning and more time with your family thanks to self-cleaning function in ELBA oven. Enjoy ease of maintenance with Catalytic Self-cleaning Panels designed to make oven cleaning fuss-free. Offering unsurpassed convenience to home cooks who enjoy cooking but dread cleaning up after.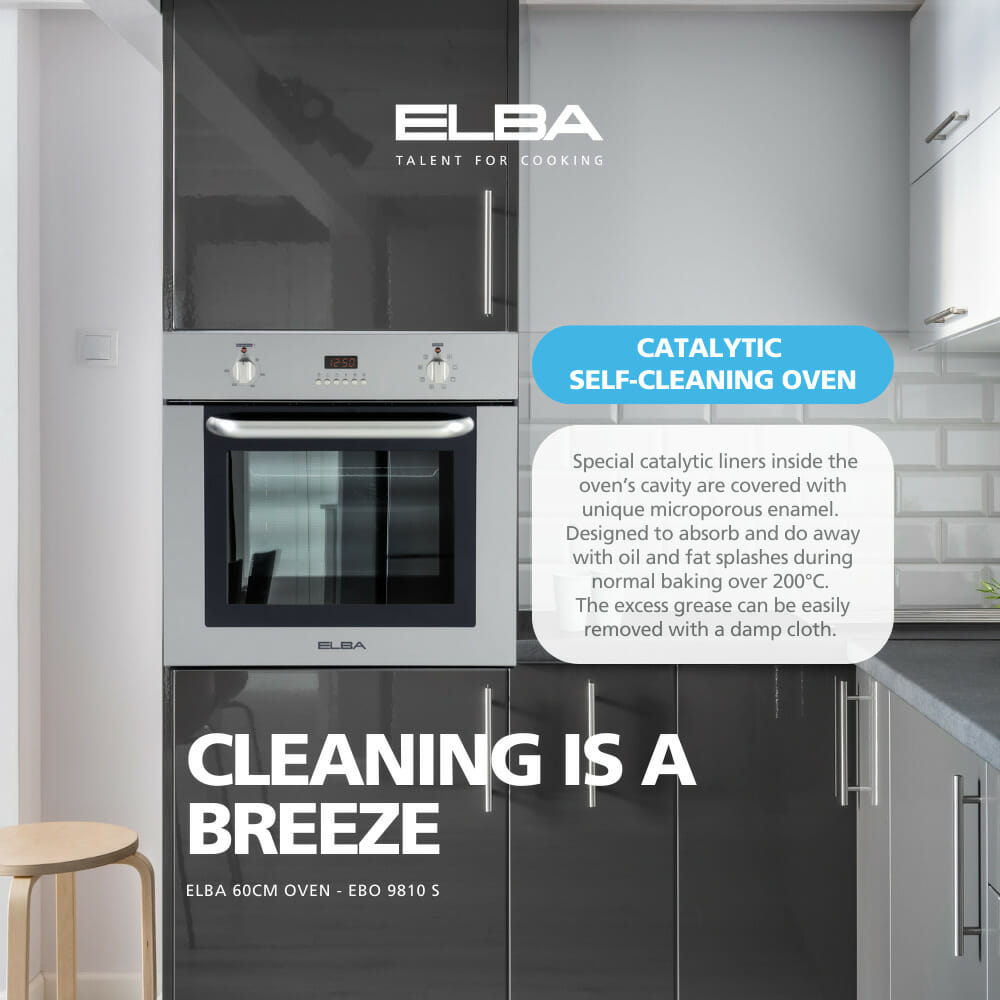 Catalytic ovens contain special catalytic liners inside the oven's cavity. These catalytic panels are covered with special microporous enamel which absorbs and does away with oil and fat splashes during normal baking over 200°C. The excess grease can be easily removed with a damp cloth.
Pros of Catalytic Ovens:
Quick cleaning – It only takes around 20-30 minutes for the oven to be cleaned unlike other self-cleaning methods
Easy to use – there is no preparation needed, simply put the oven into self-cleaning mode and watch the magic happen!
Locate nearest retailers to browse ELBA Ovens in person.