ENAMELLED PARTS
All the enameled parts must be cleaned with a sponge and soapy water or other non-abrasive products.
Dry preferably with a microfibre or soft cloth.
Acidic substances like lemon juice, tomato sauce, vinegar, etc. can damage the enamel if left too long.
STAINLESS STEEL, ALUMINIUM PARTS, AND PAINTED OR SILK-SCREENN PRINTED SURFACES
Clean using an appropriate product. Always dry thoroughly.
These parts must be cleaned very carefully to avoid scratching and abrasion. You are advised to use a soft cloth and neutral soap.
Avoid abrasive substances or non-neutral detergents as these will damage the surface.
INSIDE OF OVEN
The oven should always be cleaned after use when it has cooled down.
The cavity should be cleaned using a mild detergent solution and warm water.
Abrasive cleaning agents or scouring pads/ cloths should not be used on the cavity surface.
Let the oven cool down and pay special attention not to touch the hot heating elements inside the oven cavity.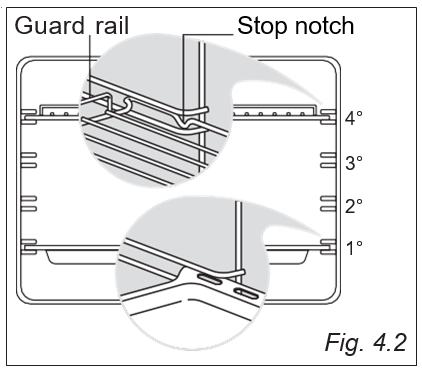 · Ensure the appliance is switched off and disconnected from the electrical power supply before replacing the lamp.
· Let the oven cavity and the heating elements cool down.
· Remove the protective cover "C" (fig. 4.3).
· Replace the halogen lamp "B" with a new one suitable for high temperatures (300°C) having the following specifications: 220- 240 V, 50/60Hz and same power (check watt power as stamped in the lamp itself) of the replaced lamp.
· Never replace the bulb with bare hands; contamination from your fingers can cause premature failure. Always use a clean cloth or gloves.
· Refit the protective cover