Are you tired of spending endless hours scrubbing, rinsing, and drying dishes by hand? Look no further than the ELBA EBDW 1481M WH Dishwasher – a modern marvel designed to revolutionize your kitchen and simplify your life. Say goodbye to the drudgery of manual dishwashing and say hello to sparkling-clean results with minimal effort. Let's delve into the world of features, performance, and convenience that this cutting-edge dishwasher brings to your home.
Effortless Elegance, Exceptional Features
✨ Freestanding Brilliance: The EBDW 1481M WH dishwasher boasts a sleek and versatile design, fitting seamlessly into any kitchen setup. Its freestanding nature provides you with the flexibility to place it wherever suits you best.
✨ Generous Capacity: With a capacity to accommodate up to 14 place settings, this dishwasher can effortlessly handle even the most substantial family gatherings or dinner parties. Say goodbye to the hassle of multiple loads.
✨ Diverse Wash Programs: Enjoy a range of 8 wash programs tailored to your needs:
Intensive
Eco
Normal
Auto
90Min
Glass
Rapid
Soak
Choose the perfect cycle for your dishes, from delicate glassware to stubbornly stuck-on food.
✨ Smart LED Display: The intuitive LED display keeps you in control, providing clear information about the wash progress and selected settings. Navigating through the options has never been easier.
✨ Efficiency at Its Best: Save time, water, and energy with the Half Load Function, which adjusts the water and energy consumption for smaller loads.
✨ Cutting-Edge Cleaning: Experience the power of the Innowash 360° Water Spray System, ensuring every nook and cranny of your dishes is thoroughly cleaned. No more pre-rinsing required!
✨ Ultimate Cutlery Care: The Infinity Plus Cutlery Drawer offers a dedicated space for your utensils, ensuring they are treated to a spa-like experience and emerge spotless and shining.
✨ Flexibility and Convenience: The Adjustable Upper Basket allows you to customize the interior to fit larger items, while the Static Drying feature ensures your dishes are ready to be put away without any fuss.
✨ Smart Indicators: Stay informed with the Rinse Aid and Salt Indicators, letting you know when it's time for a refill.
Performance that Delivers
✅ Water Efficiency: The EBDW 1481M WH dishwasher is designed to be kind to both your dishes and the environment. Its exceptional water efficiency ensures that every drop is used wisely.
✅ Energy Efficiency: With an energy consumption of just 266kWh per annum, this dishwasher helps you save on electricity bills while reducing your carbon footprint.
✅ WELS Registration: The Water Efficiency Labelling Scheme (WELS) registration, No. DW-2020/030322/SET, assures you of its efficiency and adherence to environmental standards.
✅ Dimensions that Fit: Measuring at W598 x D610 x H845mm, this dishwasher is compact yet capacious, fitting seamlessly into your kitchen layout.
Bringing Innovation to Your Kitchen
The ELBA EBDW 1481M WH Dishwasher is more than just an appliance; it's a promise of convenience, efficiency, and elevated living. Embrace the future of dishwashing and make a splash in your kitchen with ELBA. Experience the transformation for yourself and take the first step towards a smarter, more enjoyable way of life.
Discover more about the ELBA EBDW 1481M WH Dishwasher today and let technology take care of the dirty work!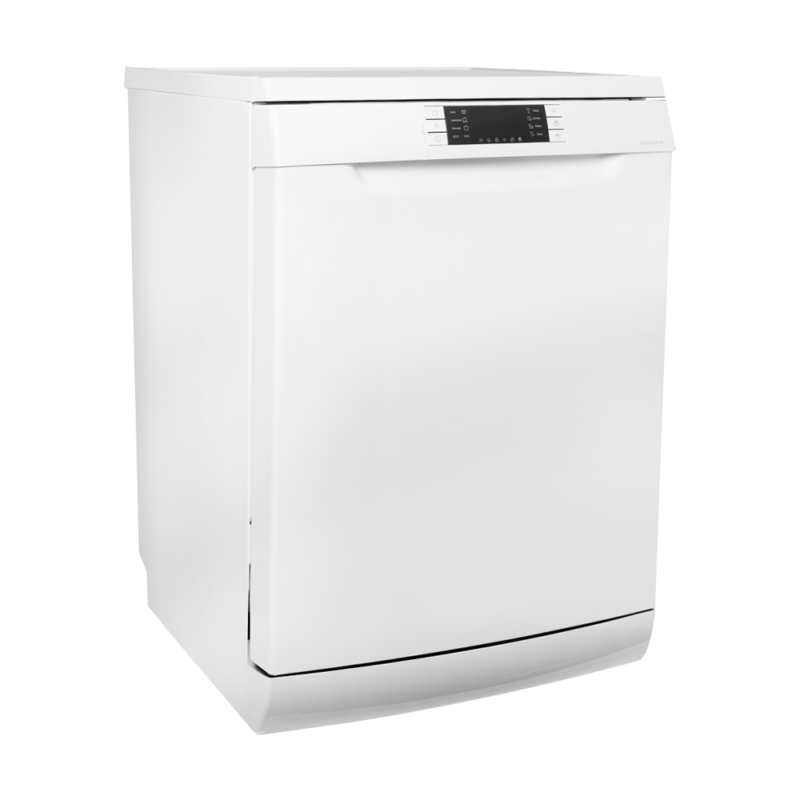 Dishwasher – EBDW 1481M WH
Dishwasher
Features:
• Freestanding Dishwasher
• Place Settings : 14
• 8 Wash Programmes
Intensive
Eco
Normal
Auto
90Min
Glass
Rapid
Soak
• LED Display
• Half Load Function
• Innowash 360° Water Spray System
• Infinity Plus Cutlery Drawer
• Adjustable Upper Basket
• Static Drying
• Rinse Aid Indicator
• Salt Indicator
Performances:
• Water Efficiency : √ √ √ √
• Water Consumption : 0.60litres/place setting
• WELS Registration No. : DW-2020/030322/SET
• Energy Consumption : 266kWh/annum
• Voltage/Frequency : 220-240V/50Hz
• Power Connection : 1760-2100W
Dimension:
• W598 x D610 x H845mm
Colour:
• White
#ELBA #Dishwasher #InnovationInAction #EffortlessElegance